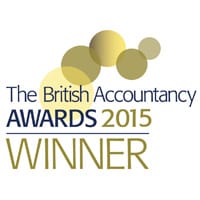 Salhan Accountants' expertise has been recognised at a prestigious award ceremony that saw the firm bestowed with the 'Independent Firm of the Year – Midlands' award at the British Accountancy Awards 2015.
This victory is not the first time Salhan Accountants' expertise has been acknowledged. The firm was noted for its private client services and named as a finalist in the Society of Trusts and Estate Practitioners (STEP) 2014/15 Private Client Awards in the Boutique Firm of the Year category. In addition, it was a finalist in the 2013 and 2015 British Accountancy Awards in the Independent Firm of the Year (Midlands) category, organised by industry publication Accountancy Age and won Corporate Livewire's Midlands Accountancy Firm of the Year 2014 award.
Dr. Anjulika Salhan, Director of Salhan Accountants, said: "I am delighted to have won Midlands firm of the year at the British Accountancy Awards. It is a great honour to have been recognised and rewarded and I'd like to thank all of our clients and team for a wonderful year. I'm looking forward to all that 2016 holds and hope for even more success in the future."
As well as providing forensic accountancy, tax litigation, tax fraud investigations and VAT investigations, the Birmingham-based firm has asset protection services covering inheritance tax, creditors, divorce, cohabitation, business failure, litigation and disputes, Sharia law and high net worth individuals. In fact, high net worth individuals can benefit from Salhan Gold, a specialist division that specialises in innovative tax strategies tailored to each client's individual goals, ambitions and circumstances.
Furthermore, the firm's Taxation Investigation team provides constructive advice based on more than 60 years' experience of tax legislation and compliance issues.