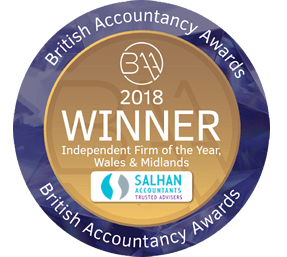 One of the Midlands' top accountancy firms, Salhan Accountants, has once again been declared a winner of the Independent Firm of the Year – Wales & Midlands at the British Accountancy Awards.
Having been shortlisted and highly commended in 2017, the firm has regained its position as the best firm in the region, having previously brought the award home to Wales and the Midlands in both 2015 and 2016 – making this latest win their third time to pick up the award.
Organised by leading publication Accountancy Age, the awards recognise the best firms in the UK each year and celebrate excellence in the profession.
The award judges recognised Salhan Accountants' ongoing growth in the region, which includes the opening of a larger office in Birmingham and the upcoming addition of a new office in Droitwich.
Well-regarded by its wide range of clients, the firm continues to recruit new talented team members and has big plans for the future of the practice in the years to come.
Celebrating its win at the prestigious national awards, Dr Anjulika Salhan, said: "We are absolutely delighted to have once again reclaimed our title as the best independent firm.
"Our team works tirelessly to provide innovative and insightful advice to our clients and we have spent the last 12 months introducing a number of new services, such as Salhan Connect, which are revolutionising the way clients interact with us.
"We have big plans for the future and we hope we can maintain our position as a leading firm in the Midlands for years to come."
To find out more about Salhan Accountants wide range of award-winning services, please visit salhanaccountants.co.uk