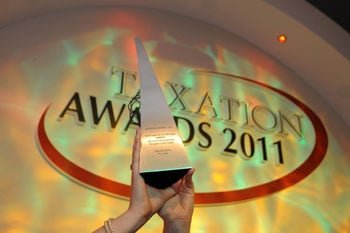 Birmingham-based chartered accountancy firm Salhan Accountants is celebrating after receiving High Commendation at one of the industry's most prestigious national awards.
The firm was one of just three finalists in the running for the title of 'Best General Tax Practice' in this year's Taxation Awards, which are recognised as a gold standard of excellence within the tax sector.
Directors Madan and Dr Anjulika Salhan received the commendation for their practice which they started more than nine years ago, at the awards ceremony at London's Hilton Hotel on May 26.
Managing Director Madan Salhan said: "We are delighted to have received High Commendation in the category of Best General Tax Practice for what is widely regarded as one of the tax sector's most highly respected awards.
"We have always taken pride on taking that one step further for our clients and it is wonderful to have our hard work recognised at the competition."
In addition to the usual chartered accountancy services, Salhan Accountants also provides highly specialised services to a wide range of clients, including forensic accountancy, tax litigation, tax fraud investigations and VAT investigations. Salhan Accountants is recognised as an authority on these specialist areas and frequently assists clients referred to it by other accountancy and legal practices, as well as carrying out work on behalf of these firms.
The firm aims to provide a complete business solution for its clients and is able to draw on the skills of a wide range of consultants in order to handle every aspect of a transaction, particularly where specific sector expertise is required, in order to make it as tax efficient as possible.
Salhan Accountants also has highly experienced former HM Revenue and Customs (HMRC) staff among its team, making the firm ideally placed to advise clients on a wide range of tax matters. The firm is also able to advise defendants and prosecutors in proceeds of crime proceedings, while both directors have been called as expert witnesses in court cases and VAT tribunals.
The firm's sister company, Salhan Consultancy Ltd, delivers highly specialised, tailor-made mathematical solutions for finance, business and industry, as well as mathematical analysis and forensic audits of consumer credit agreements. This is done using the practice's own bespoke algorithm and computer software, which businesses can also implement in-house with full training and support.
Salhan Accountants is also heavily involved in its local community, including sponsoring awards for students.