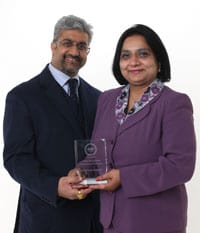 Birmingham-based specialist chartered accountancy firm Salhan Accountants is celebrating its third awards success in 18 months after being named Business of the Year at the Institute of Asian Businesses (IAB) Awards.
The firm was presented with the prestigious accolade during a ceremony at the International Convention Centre in Birmingham on 17 November as part of the IAB's 25th anniversary celebrations.
Salhan Accountants won the award on the strength of its growth over the past year, as well as its wide range of specialist services, including forensic accountancy, tax litigation, tax fraud investigations and VAT investigations. The firm is also launching a new asset protection service, covering issues such as inheritance tax, creditors, divorce, cohabitation, business failure, litigation and disputes, long-term care, high net worth individuals and Sharia law.
Managing Director Madan Salhan said: "To be shortlisted for such a prestigious award was fantastic news, but to be named as the winner is a great honour and a testament to the hard work of everyone at Salhan Accountants."
Director Anjulika Salhan, who also heads sister company Salhan Consultancy Ltd, said: "As a firm, we have worked extremely hard to develop a wide range of specialist services for our diverse client base. To have all this hard work recognised with this award is wonderful news."
This is the third awards success for Salhan Accountants in the past year and a half, with the firm having won Entrepreneur of the Year at the Birmingham Chamber of Commerce Group Business Awards in April this year, as well as being highly commended in the Best General Tax Practice category at the 2011 Taxation Awards, recognised as a gold standard of excellence within the tax sector.
For further information, please contact Salhan Accountants on 0121 455 7475 or 0121 794 0620.